Altingoz Ates Tugla Ltd. Sti.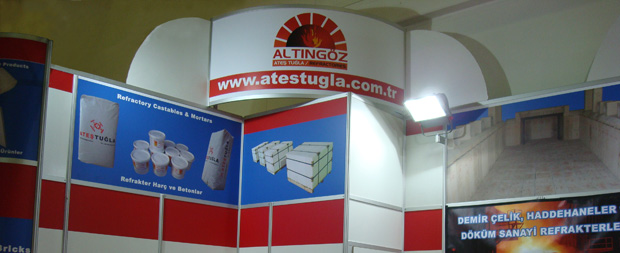 Ates Tugla Refractory Bricks, Castables & Mortars, Ceramic Fiber Insulation Materials
Since 1977, our company has been providing refractory materials (fire bricks) for industries like glass, ceramic, iron and steel manufacturing plants. At the same time, we have been exporting to many countries in many regions like Europe, Africa, Middle East and North America.
AZS ZAC, Mullite, Zircon, Zircon Mullite, Andolusite, Silimanite, Cordierite Batts, Jargal, high and low Alumina Bricks & Blocks, Silica Bricks and Mortars are always exist in our stock.
On your request, according to your sample or drawing supplied, we produce special and shaped refractories in time. Depending on your application and working temperature, we recommend the best refractory for your requirements.
Fire Bricks are one of the most important infrastructural products of glass, ceramic and iron steel industries.
We are manufacturing 800 °C ile 1700 °C high alumina, airsetting, zircon castables & mortars.
We keep stock of ceramic fiber blankets, ceramic fiber insulation boards, ceramic fiber modules, ceramic fiber papers, calcium silicate boards that are used for heat insulation in many kind of industries.
Depending on customer needs, we have been producing refractories with all sizes and shapes, resistant to temperature from 800°C till 1800 °C, according to given shapes or description. Please feel free to contact us for this kind of your needs.
We manufacture furnaces for all types of glasses like cup, plate, outer & internal facing, decoration; glass composition design , raw material selection and supply for glass production, batch formula preparation, colorful glass design and production, low cost glass substantials, solutions for the problem occurrence during glass production, feasibility works, education and consulting services are available. Project design about furnace capacity, burner system and loading system. In addition, works to increase glass capacity, glass furnace hot-cold repair service, glass furnace renovation services are available.
Our team specialized in glaze furnace design and installation. We supply all of refractories and mortars for the glaze furnace we design. We have services such as glaze furnace equipments, hot-cold repair service, renovation, extending furnace life, increasing the quality of product. Technical consulting service is also available. We can provide all types of refractories like bricks, blocks, burners, castables and mortars used in glaze furnaces. We always keep stock of AZS ZAC refractory bricks in stock.